T/W: This blog contains themes of domestic abuse and sexual assault.
The Domestic Abuse and Forced Marriage Helpline saw a 50% increase in calls in May 2020 compared to the same time in 2019 and the NSPCC reported a 30% increase in referrals to agencies in Scotland about children in abusive households during the pandemic [1]. SYP's Justice Committee is horrified at the reality of these statistics and that's why we're dedicating this week to raising awareness of domestic abuse in Scotland.
Before looking in more detail at domestic abuse, it's important to share that if you are experiencing domestic abuse, want to support a friend, or just want more information, please consider using these resources:
Scotland's Domestic Abuse and Forced Marriage helpline is open 24/7 on 0800 027 1234 or by email on helpline@sdafmh.org.uk
What is domestic abuse?
Women's Aid define domestic abuse as "a pattern of controlling, coercive, threatening, degrading and/or violent behaviour, including sexual violence, by a partner or ex-partner. Domestic abuse is overwhelmingly experienced by women and perpetrated by men."
The impact of domestic abuse can be extremely detrimental, even resulting in death – on average 1 women every single month are murdered by their partners or ex-partners in Scotland. When people think of domestic abuse, they may assume it refers just to physical violence, but it is important to remember that domestic abuse can take many different forms, as stated in the definition above.
If you want to find out more Scottish Women's Aid has a detailed breakdown of the different forms of domestic abuse here.
What are the root causes of domestic abuse?
Domestic abuse is disproportionately experienced by women and girls due to the gendered inequalities that remain here in Scotland, with 4/5 of incidents reported in 2018-19 involving a female victim. This abuse stems from the gendered rules and expectations we have; it is rooted in gender inequality, abuse and harmful norms in society, allowing toxic masculinity to thrive and violence against women to be normalised and even glorified.
In June 2020 MSYPs voted with 94% agreement to support my Motion supporting the annual '16 Days of Action to End Violence Against Women' campaign', and echoing their call for the elimination of all forms of Gender-Based Violence (GBV) against women.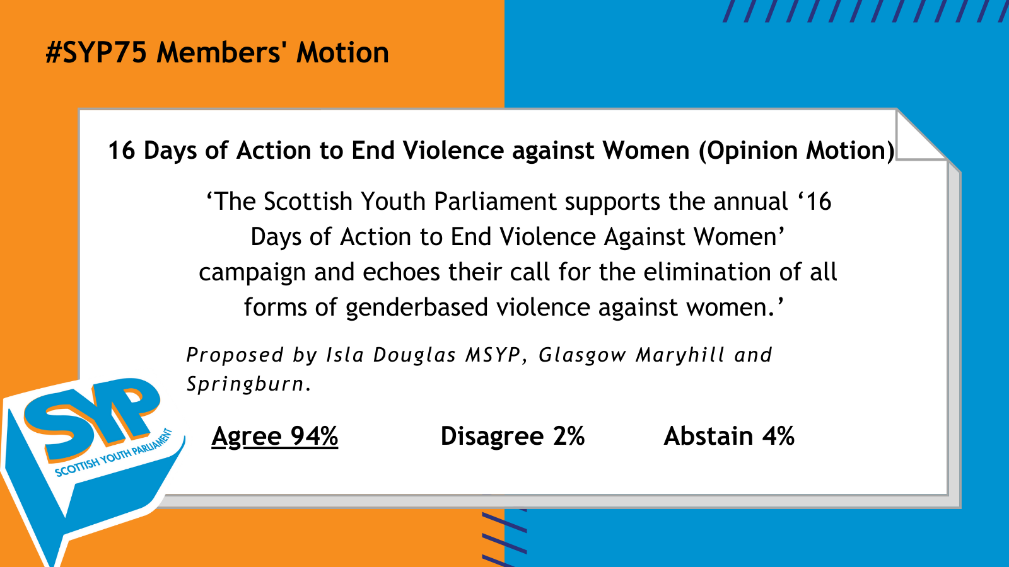 Children and young people growing up in homes where domestic abuse occurs
Even if they are not the direct victims of domestic abuse, children and young people living in homes where domestic abuse occurs can be severely impacted. Even if a child or young person doesn't see the shouting or the hitting, they've probably heard it or maybe they've seen their parent bruised or upset after an argument. They also pick up on the fear and power dynamic, becoming victims in their own right.
The Domestic Abuse (Scotland) Act 2018 is the only piece of UK legislation with a legal option to increase someone's sentence if found guilty of domestic abuse, to specifically reflect the harm that can be caused to children growing up in an environment where domestic abuse takes place.