Privacy Policy
Who we are:
The Scottish Youth Parliament is the data controller for any personal data that you provide with us.
The Scottish Youth Parliament is a national charity, registered in Scotland (Scottish Charity Number: SC032662) and a company, limited by guarantee (Registered in Scotland SC227548).
The Scottish Youth Parliament (SYP) represents Scotland's young people. The charity's vision for Scotland is of a nation that actively listens to and values the meaningful participation of its children and young people. SYP's goal is to make this vision a reality, in order to ensure Scotland is the best place in the world to grow up.
SYP is committed to being truly inclusive, and works tirelessly to ensure the voices of every young person – from every community and background in Scotland – are heard.
Politically impartial, SYP works with stakeholders, groups, individuals and representatives across the political spectrum who share the charity's values, to enable SYP to deliver the policies that are important to Scotland's young people.
Scottish Youth Parliament Privacy Policy
We promise:
To keep your data safe and private
Not to sell your data.
To give you ways to manage and review how we keep in touch with you

What data is being collected?
As a member of the Scottish Youth Parliament, we ask for a range of different information on you to make sure that we can keep in contact with you. The data we store includes:
Personal contact details such as name, title, addresses, telephone numbers, and personal email addresses, next of kin, emergency contact and medical information.
Who your support worker is.
Date of birth.
Gender.
Religious needs.
Dietary requirements.
What training you have had.
Various consents (media, photography, video, etc.).
When you were elected and when you resign or stand down as a MSYP.
Information about your use of our information and communications systems (SYPMail).
You should familiarise yourself with the Data Protection Policy (2018) to fully understand these rights.
What is the legal basis for processing the data?
The Scottish Youth Parliament obtain this data through the recruitment and application process, directly from you, through expression of interest forms, consent forms, signed codes of conducts, through your support worker and through monitoring of internet, telephone and emails.
The company may also gather sensitive personal data for certain roles, such as (but not limited to), information on health and medical conditions and information from DVLA or Visa Applications. In these circumstances, we will always seek your explicit prior consent to do so.
All information is stored securely, and we follow the standard retention procedures for storing data in line with the GDPR regulations, please refer to the policy for details of the retention procedures for storage. The company can also confirm that as an organisation, we do not carry out automated decision-making, we ensure that human intervention is always involved. We will notify you should anything change in this regard.
How will the information be used?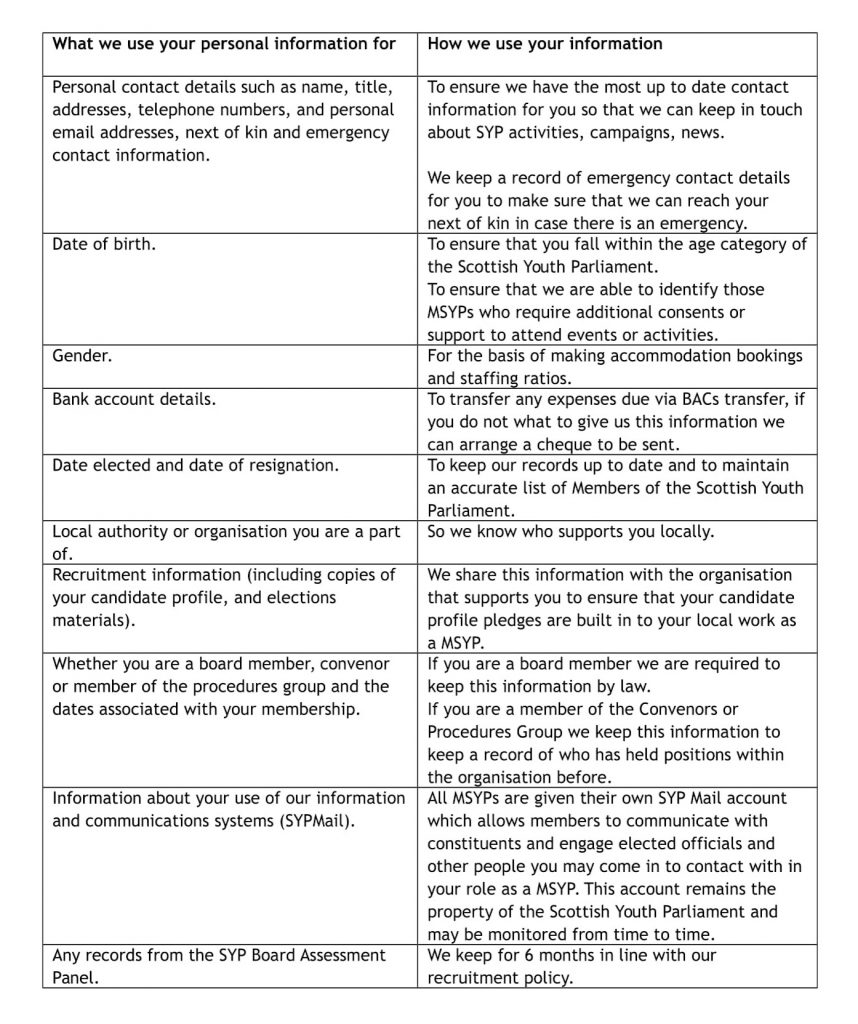 How long will the data be stored for?
If you are a member of the Scottish Youth Parliament (SYP):
SYP will only retain your personal information for as long as necessary to fulfil the purposes we collected it for, including for the purposes of satisfying any legal, accounting, or reporting requirements. To determine the appropriate retention period for personal data, we consider the amount, nature, and sensitivity of the personal data, the potential risk of harm from unauthorised use or disclosure of your personal data, the purposes for which we process your personal data and whether we can achieve those purposes through other means, and the applicable legal requirements.
Expression of Interest forms/data will be kept for one year from the date of the election of which you express an interest to stand in.
Consent forms/signed code of conducts/ and other member's data will be kept for as long as you are a Member of the Scottish Youth Parliament – data will be deleted three months after you resign after this SYP will keep your name, email address, constituency and term of office.
What rights does the data subject have?
Under the General Data Protection Regulation (effective from 25 May 2018), there are a number of new rights relating to Data Protection:
You have the following rights:
The right to be informed
The right of access
The right to rectification
The right to erasure
The right to restrict processing
The right to data portability
The right to object
Rights in relation to automated decision making and profiling
You can find more information about these rights on the Information Commissioner's website.
How can the data subject raise a complaint?
To request a copy of the information that we hold about you, correct any information that is inaccurate, unsubscribe from our services, or withdraw your consent, you can contact us at information@syp.org.uk or write to us at:

Data Protection
Scottish Youth Parliament
Gordon Lamb House
3 Jackson's Entry
Edinburgh
EH8 8PJ

If you have created a website account, you can sign in and edit your profile to update some of your details.
For enquiries about the Scottish Youth Parliament (the Data Controller) data protection practices, you can contact information@syp.org.uk.
Should you wish to make a complaint about the Scottish Youth Parliaments collection or use of data, the UK's independent authority set up to uphold information rights in the public interest, promoting openness by public bodies and data privacy for individuals is the Information Commissioner's Office.
Email and Communications Terms and Conditions:
All emails and communication transmissions are privileged, confidential, and intended solely for the person or organisation to which it is addressed. If you are not the intended recipient, you must not copy, distribute, or disseminate the information, nor may you take any action in reliance of it. Any views expressed in this message are those of the individual sender, except where the sender specifically states them to be the views of the Scottish Youth Parliament. If you have received this message in error please notify the Scottish Youth Parliament immediately by email to hello@syp.org.uk. We strongly recommend that you check for viruses using your own virus scanner, as the Scottish Youth Parliament will not take responsibility for any damage caused as a result of virus infection.
Any views expressed in the message from MSYP emails (@sypmail.org.uk) are those of the individual sender. If you have any queries, please notify the Scottish Youth Parliament immediately by email to hello@syp.org.uk.
Data Protection Act:
Any information provided or gathered by this site will be treated with the strictest confidence, in accordance with the Data Protection Act 1998 and from the 25th of May 2017 the General Data Protection Regulations 2018.
http://www.legislation.gov.uk/ukpga/1998/29/contents
Links to other sites:
SYP is not responsible for the privacy practices or content of any websites or servers that we link to from our site.
Copyright:
The materials, including; images, copy, publications, video, and sound bites, on this site are protected by copyright and/or database rights throughout the world and are owned by the Scottish Youth Parliament.
You may read, print and download the contents of the site for private use only.
Cookies:
Cookies are small text files that are placed on your computer by websites that you visit. They are widely used in order to make websites work, or work more efficiently, as well as to provide information to the owners of the site. The table below explains the cookies we use and why. A cookie does not collect personal information about you. A persistent cookie remains on your hard drive after you close your browser. Persistent cookies may be used by your browser on subsequent visits to the site. Persistent cookies can be removed by following your web browser's directions. A session cookie is temporary and disappears after you close your browser. You can reset your web browser to refuse all cookies or to indicate when a cookie is being sent. However, some features of this site may not function properly if the ability to accept cookies is disabled.
Which cookies do we use?
Google Analytics
_utma
_utmb
_utmz
These cookies collect information about
how visitors use a website, for instance
which pages visitors go to most often, and
if they get error messages from web
pages. These cookies don't collect
information that identifies a visitor. All
information these cookies collect is
aggregated and therefore anonymous. It
is only used to improve how a website
works. More Information
Google Analytics for video usage
_utma
_utmc
_utmz
_utmt_player
We use Vimeo to embed videos onto our website. These cookies are used by Vimeo to track information about how the Vimeo service is being used, so Vimeo can make improvements and report on performance.
More Information
Vimeo Video analytics
player
vuid
We use Vimeo to embed videos onto our website. These cookies are used by Vimeo to collect analytics tracking information.
More information
YouTube Video analytics and advertising
visitor_info1_live
ysc
pref
We use YouTube to embed videos onto our website. The cookies are only set if the video is shared and is used to check available bandwidth. This cookie is set by the YouTube video service and aims to limit repeat advertising and deliver more relevant advertising to you.
More information
How do I manage my cookie settings?
Most web browsers allow some control of most cookies through the browser settings. To find out more about cookies, including how to see what cookies have been set, visit www.aboutcookies.org or www.allaboutcookies.org.
Find out how to manage cookies on popular browsers:
To find information relating to other browsers, visit the browser developer's website. To opt out of being tracked by Google Analytics across all websites, visit http://tools.google.com/dlpage/gaoptout.
Questions about Privacy:
If you have any questions about our privacy policy, please contact us at information@syp.org.uk