Scottish Youth Parliament Privacy Policy
Updated June 2023
Who we are:
The Scottish Youth Parliament is the data controller for any personal data that you provide with us.
The Scottish Youth Parliament is a national charity, registered in Scotland (Scottish Charity Number: SC032662) and a company, limited by guarantee (Registered in Scotland SC227548).
What data is being collected?
As a member of the Scottish Youth Parliament (or if you express an interest in becoming an MSYP), we ask for a range of different information on you to make sure that we can keep in contact with you. The data we store includes: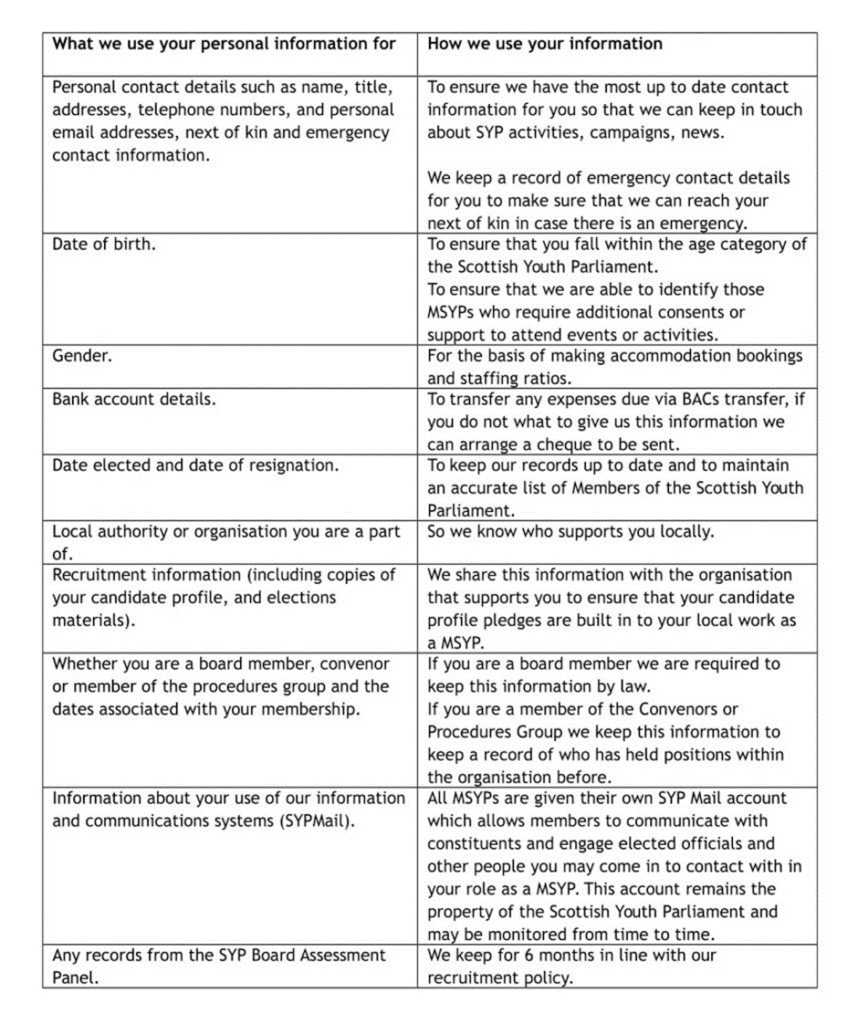 We will also hold personal data relating to what training you have received and your consents (to media, photography, video etc.)In addition we also hold some "special category" data that you may provide to us, such as
information relating to religion, ethnicity, beliefs and sexual identity to allow us to monitor equality;
information relating to health, disability or dietary or support needs to allow us to provide appropriate support to you.
The Scottish Youth Parliament obtain this data through the recruitment and application process, directly from you, through expression of interest forms, consent forms, signed codes of conducts, through your support worker and through monitoring of internet, telephone and emails.
What is the legal basis for processing the data?
We collect and hold this data in support of our legitimate interests in administering the Scottish Youth Parliament, in line with the UN Convention on the Rights of the Child.
In addition we process the special category data listed above to meet our legal obligations under equalities legislation to make reasonable adjustments to support you, and our legal obligations for health and safety, and for monitoring equality in the public interest
Some activities – such as photographing or videoing you at SYP events, or mentioning you on social media – are carried out only with your consent.
How long will the data be stored for?
Expression of Interest forms/data will be kept for one year from the date of the election of which you express an interest to stand in.
Consent forms/signed code of conducts/ and other member's data will be kept for as long as you are a Member of the Scottish Youth Parliament – data will be deleted three months after you resign. After this SYP will keep your name, email address, constituency and term of office on the members database. Your personal data will also be retained where it is part of the records of the activities of the SYP.
What rights do I have have?
You have the following rights:
The right to be informed how your data is used (which is the purpose of this notice.
The right of access to the personal data which relates to you.
The right to rectification where data is inaccurate.
In certain circumstances, the rights to erasure and to restrict processing.
The right to object to how your personal data is processed.
Rights in relation to automated decision making and profiling (however, we do not carry out automated decision-making).
You can find more information about these rights on the Information Commissioner's website.
Contact Details
To ask for further information, request a copy of the information that we hold about you, correct any information that is inaccurate, unsubscribe from our services, or withdraw your consent, you can contact us at information@syp.org.uk or write to us at:
Data Protection
Scottish Youth Parliament
1 Mansfield Place
Edinburgh
EH3 6NB

If you have created a website account, you can sign in and edit your profile to update some of your details.
SYP Email Statement:
All emails and communications are privileged, confidential, and intended solely for the person or organisation to which they are addressed. If you are not the intended recipient, you must not copy, distribute, or disseminate the information, nor may you take any action in reliance of it. Any views expressed in this message are those of the individual sender, except where the sender specifically states them to be the views of the Scottish Youth Parliament (SYP). If you have received this message in error, or have any queries, please notify SYP immediately by emailing hello@syp.org.uk. We strongly recommend that you check for viruses using your own virus scanner, as SYP will not take responsibility for any damage caused as a result of virus infection.
Supplementary MSYP Email Statement:

Any views expressed in communications from MSYP emails (@sypmail.org.uk) are those of the individual sender. This communication should be treated as confidential: the information in it may not be used or disclosed except for the purpose for which it has been sent. If you are not the intended recipient, please contact the sender immediately then delete it from your computer system. Opinions, comments or other information in this e-mail that don't relate to the business of The Scottish Youth Parliament are neither given or endorsed by the company. We would kindly ask that you respect privacy and only save or forward this email as part of your business with The Scottish Youth Parliament. The Scottish Youth Parliament has taken all reasonable precautions to ensure that no viruses are transmitted to a third party. However, the recipient should check this e-mail and attachments for the presence of viruses. The Scottish Youth Parliament accepts no liability for damage caused by any virus transmitted by this e-mail.