Become an MSYP
Young people aged 14-25 can stand as a candidate in SYP elections. SYP elections are held in Scotland every two years and will next take place in November 2023.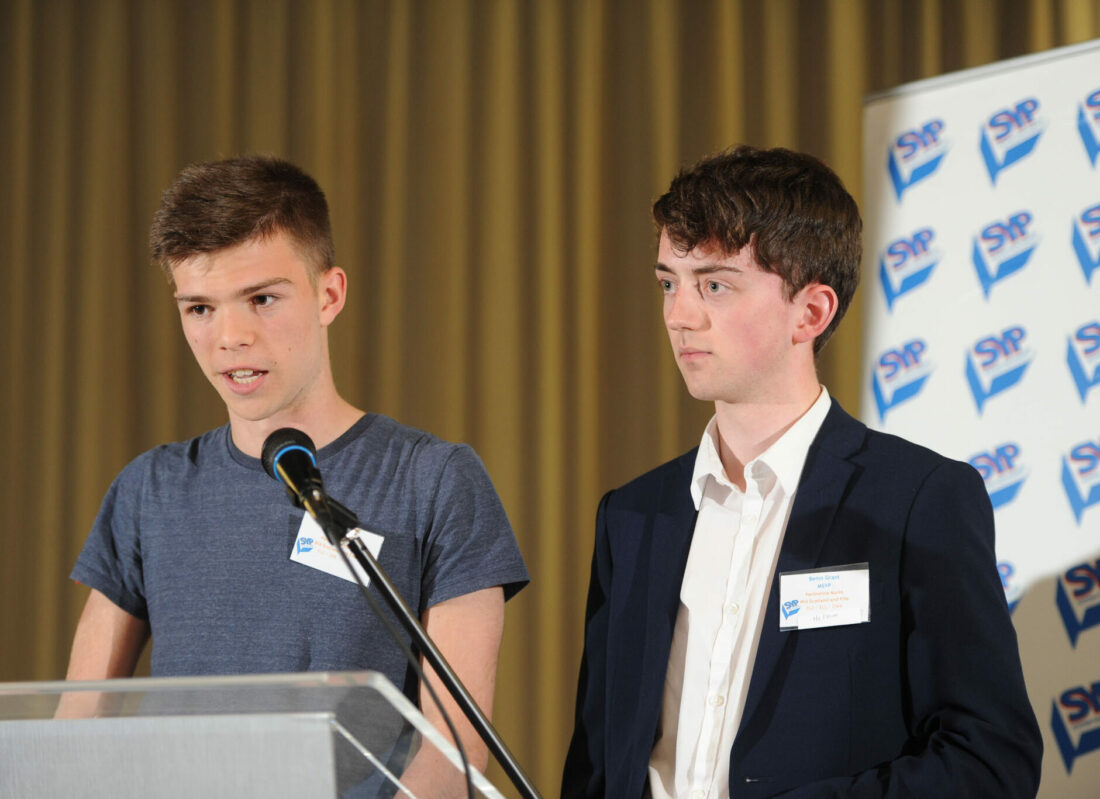 The Scottish Youth Parliament (SYP) is the democratically elected voice of Scotland's young people. Held every two years, the next SYP elections will take place in November 2023, although registration is now closed.
To find out about the candidates who were elected in November 2021, please click the link below:
What are the Elections?
People aged 14-25 can stand for election as a Member of the Scottish Youth Parliament (MSYP) in two ways:
As one of two MSYPs in your Local Constituency.
Through a number of voluntary organisations that have representative MSYPs.
The votes from young people, give MSYPs their democratic mandate to represent the views of Scotland's young people.
MSYPs have a crucial role to play in Scottish public life, from representing young people across the country to running impactful campaigns. Successful previous campaigns include:
Right Here, Right Now was fundamental in incorporating the UN Convention on the Rights of the Child into Scots Law.
All Aboard recommended free bus travel for young people, which was introduced in January 2022.
What should you do now?
The next SYP elections you can stand in will be in 2025 and young people living in Scotland aged 14-25 at the time of the election will be eligible to stand then. However, if you'd like to get involved before then, there are lots of ways you can engage with SYP, decision-makers, and make change happen. Consider: 
Following us on social media (Twitter, Instagram, & Facebook,) and subscribe to our newsletter. This way you'll get regular updates on what SYP are doing and how you can get involved.
Engaging with our From Scotland's Young People' Manifesto and consider writing a blog on your experiences of a policy that is particularly important to you. If you'd like to do this, please get in touch with manifesto@syp.org.uk.
Engaging with your MSYP – Your MSYP will represent young people in their constituency or National Voluntary Organisation for two years, and that will involve consulting with young people they represent. So visit Find Your MSYP and get in touch with them if you have an issue you'd like to raise.
Checking if there is a by-election in your constituency or National Voluntary Organisation. For a wide range of reasons, sometime MSYPs stand down from their role and a by-election is held. You can find out more by getting in touch with SYP by clicking here.
Why should you stand?
When the next election does come, this is why you should stand to become a Member of the Scottish Youth Parliament.
Becoming an MSYP is a life changing experience. You will improve the lives of Scotland's young people, learn new skills, and meet other inspiring young people. You will become a leader, gain confidence, receive excellent training, and much more.
SYP believes young people's voices matter, and we are committed to ensuring you can realise your right to be heard. We hope you seize the opportunity to apply and look forward to welcoming you to the SYP family.