This past year has been one of the most challenging for everyone in education, and especially for the young people learning in our schools, colleges, and other places of education.
Since November 2020, I have represented the Scottish Youth Parliament on the National Qualifications 2021 Group. The Group meets weekly and considers how qualifications should be determined this year. My role on the group is to try and ensure that the things that young people care about are prioritised within the changes that are being made to the system this year.
My experiences
Perhaps unsurprisingly, this has quite often been quite a challenge for me! I am the only young person sitting on a group with around 15-20 adults, all of whom are education professionals, experts, or leading figures in their fields.
Everyone around the table at NQ Group is passionate and they clearly want the best for young people in education- but getting my point across and ensuring young peoples' views are accounted for in a meaningful way can be difficult.
The reality is that young people in education have felt let down and ignored over the course of the pandemic – something I can relate to, based on my own experiences and those of the young people I speak to every day. Trying to explain how young people are feeling, or what we need from the system, as the only young person in the room, is definitely not easy.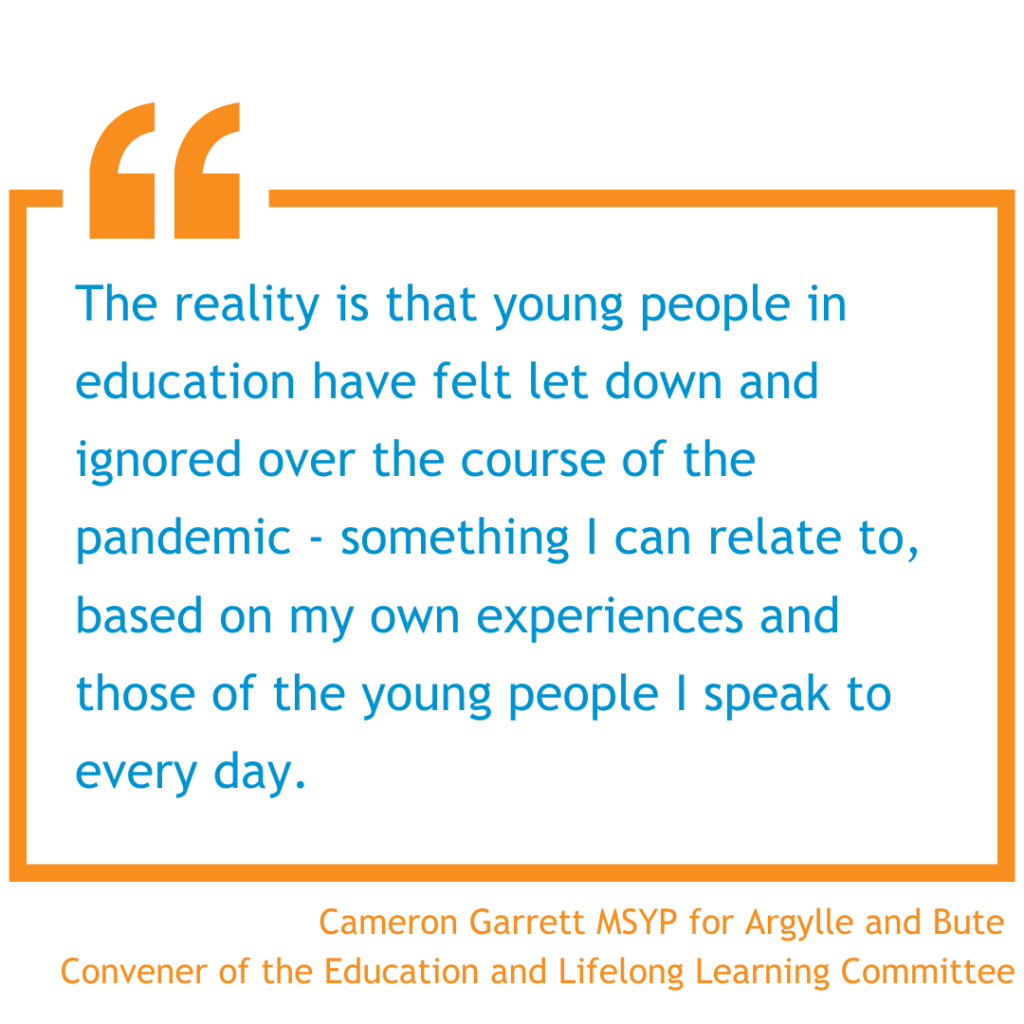 What we've done:
SYP and I have done a lot of work, most of it behind the scenes, over the last few months to ensure young people's voices are heard in the decisions being made. Just a few examples of this are:
MSYPs participated in focus groups during summer 2020 which advised the SQA of the concerns we had with the Alternative Certification Model (ACM) for 2020. You can read the full report here.
SYP conducted learner panels with the SQA, at which a group of MSYPs gave honest, frank, and sometimes very challenging reflections to the SQA to help inform future policy.
I also supported the launch of FAQs booklet by the Children and Young People's Commissioner Scotland which went into more details about how young people can access support.
Appeals:
One of the key concerns young people have raised with me is around the appeals process for exams. It is well documented that the way results were originally determined last year was not fair on young people- something that SYP pointed out would happen in this report. Sadly, our views were not taken into account at the time.
To avoid the same mistakes this year, we think it is critically important that young people have the opportunity to appeal if they feel it is necessary to do so.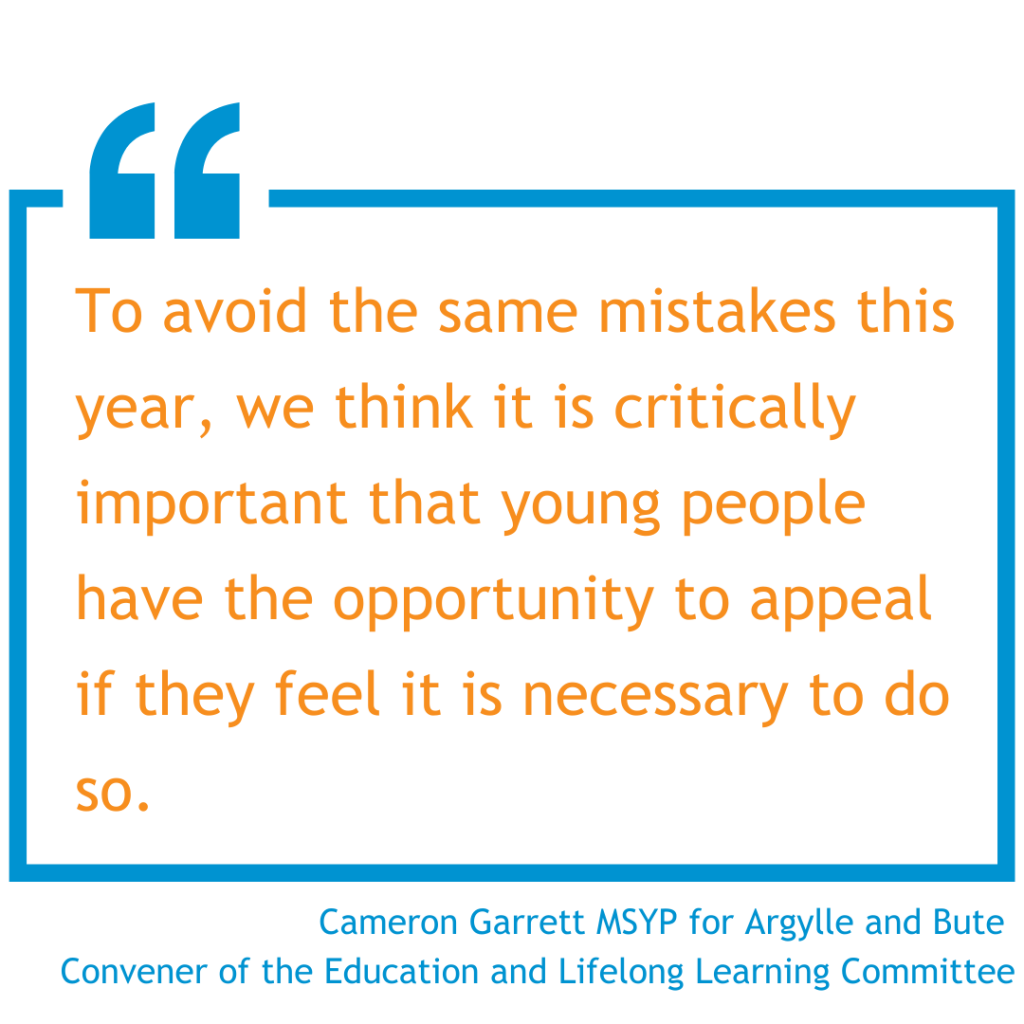 In SYP's response to the SQA 2021 Appeals consultation, we made clear that the proposals the SQA had made were not acceptable to us or the young people we represent. We said that young people must be meaningfully involved in all decisions about the reasons and context for lodging an appeal. To achieve that, we argued:
Those who have specific needs must have support, including having a parent or carer involved or representing them if they need it.
Young people must have the right to an appeal that is independent of their school or college, if they need it. Young people feel that doing this would ensure the process is fair, objective, and meaningfully upholds their rights.
No result should be downgraded as a result of an appeal- young people have already suffered enough this year and need to know that if they do appeal, they will not suffer more as a result.
The grounds for appeals must take into account additional circumstances such as health issues, family bereavement, being a young carer, mental health challenges, and more.
Final thoughts
The incorporation of the UNCRC into domestic law means that, in the future, young people will have a legal right to have their views taken seriously in decisions that affect them.
It is obvious to me that we still have a very long way to go to ensure young people's participation in decision-making is meaningful.
Working with our partners, everyone at SYP will continue to work as hard as we can to ensure that young people are not only listened to – but also to ensure their views are acted upon. Young people expect no less of us, and we will not let them down. Moving forward, it is crucial that all organisations, take a look at the way they engage with young people and reflect; is it meaningful? Cameron Garrett, MSYP for Argyll and Bute