On Saturday 26th November, MSYPs came together to explore and discuss the future of Scottish education. During the event, they heard about SYP's work on education; welcomed Professor Alma Harris and Professor Louise Hayward for an expert panel discussion; and took part in consultation workshops on the National Discussion on Education and Louise Hayward's independent review of assessments and qualifications. In this post, Beinn Grant, MSYP for Perthshire North and Fraser Cronin, MSYP for Stirling, reflect on their experiences of the event.
You were both involved in planning and facilitating a consultation workshop at SYP's winter education event. What was the aim or purpose of your consultation workshop?
Beinn: The Louise Hayward Review of assessments and qualifications workshop provided us a unique opportunity to delve deeper into the broad range of views MSYPs and indeed their constituents have on all things education and exam reform. With lots of passionate debate and engagement, we gained a valuable insight into what MSYPs thought about broader use of technology, equity, and forms of assessment in education. It was clear from the beginning that everyone agreed that the current conventional exam system is in dire need of reform, and that it's vital for learners and for young people that their rights are put at the centre of any new system, allowing for greater flexibility and consideration for individual needs.
Fraser: The aim of the National Discussion on Education workshop was to gather wide ranging views from as many different perspectives as possible. Ranging from the nature of exams all the way to the overhaul of three key organisations, there was a lot to discuss. Of course, working with a group of passionate MSYPs made this easy, we love to debate and discuss…However, on an individual level, everyone present felt the importance of meaningfully engaging in this, potentially, ground-breaking initiative.  
It sounds like they were really fascinating sessions! What were the two or three key themes or messages that came out of your workshop?
F: From the National Discussion on Education workshop, it became clear that a rights-based approach placing young people, and the voice of young people, at the heart of the movement towards a better education system was something that everyone could agree was essential. Around this key theme stemmed many different avenues. Notably young people participating in the workshop wanted to shift away from knowledge-based assessments, in favour of a skills-based approach. Quoting from one of the session participants, "School should be about how to live life and how to have a future". In this same vein, those present were extremely worried about the state of mental health and wellbeing. Not just the curriculum around PSHE, but also the wellbeing of exam-aged children and young people.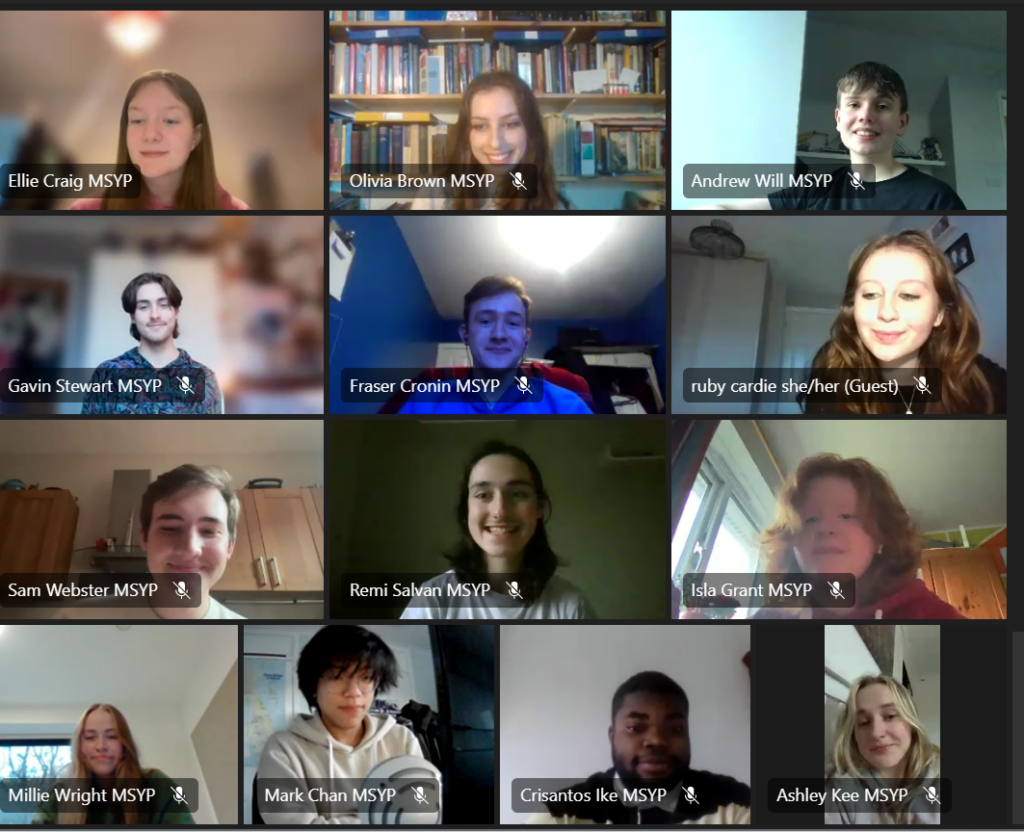 Why is it important that young people have the opportunity to take part in events like this?
B: 2022 has been a crossroads in the journey of Scottish Education. Fundamentally, we believe a new system should be built from the bottom up with young people and the UNCRC at its heart, and events such as our Scottish Youth Parliament education day brings us that one step closer in achieving this. It's hugely important that everyone has their say in both the National Discussion and the Independent Review in Exam Reform to show that our voices matter and to ensure that change is widespread and comprehensive.
And finally, if you had to pick one highlight from SYP's education event, what would it be?
F: The highlight of the National Discussion on Education sessions was being a part of intense debate with people who truly cared. Facilitating discussions with the actual users of education – the young people – gives me hope that change truly is just around the corner. On the other hand, the future is still hazy and undefined. There are lots of important discussions still to be had! And I, for one, cannot wait to keep moving the conversation forward. 
B: Choosing a highlight from the event is tough. However, seeing our fellow MSYPs contributing to discussion and getting to know the people behind the reviews such as Prof Alma Harris and Prof Louise Hayward was amazing. I felt as though there was a real sense of importance and understanding both on the Professors' part in engaging with young people, but also from the MSYPs themselves realising the monumental scale and significance of what's currently being aspired to in education reform.
Educational Attainment is one of SYP's 2021-23 membership's National Campaign Priorities. The findings from our consultation workshops will inform our official responses to the National Discussion and Hayward review consultations.
Find out more about SYPs current campaign priorities on our campaign hub.